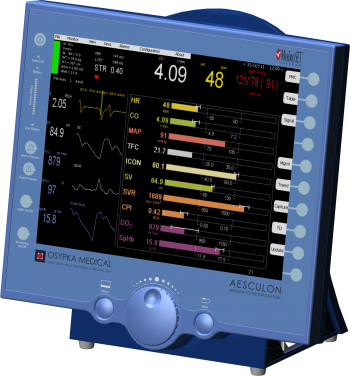 The AESCULON™ provides a 12'' high resolution touch screen color display that works as a comprehensive, standalone hemodynamic monitor. It provides a complete hemodynamic monitoring system that provides user-defined hemodynamic parameters.
With the help of Masimo's pulse oximetry chipset, the AESCULON™ is able to measure SpO2 and is equipped with a non-invasive blood pressure cuff, which allows for the measurement of systemic vascular resistance (SVR) with the input of Central Venous Pressure.
Furthermore, the AESCULON™ can be upgraded to include Masimo's SET rainbow parameters, which measures absolute hemoglobin SpHB™. Together with oxygen saturation SpO2, and cardiac output, the AESCULON™ is able to determine completely continuous and non-invasive measurement of Oxygen Deliver (DO2) and Oxygen Delivery Index (DO2I).
The AESCULON™ connectivity is superior among all competitors. Thanks to the four USB ports, convenient backup of patient data and printing could be easily done. Also, remote data transfer to a Hospital information.
System could be done via the Network connectivity option.
Together with the iControl™ Software, the AESCULON™ could:
Guide Fluid Management Fluid Bolus test and Passive Leg Raising PLR Tests.
High trending abilities.
Unlimited Storage.
Superior Reporting (Comparison Reporting).