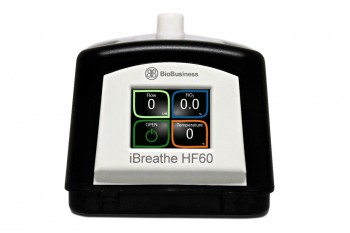 iBreathe HF60 is the low cost High Flow Oxygen Therapy generator ( Home Care grade)
Despite been designed for Home Care, it's been used in hospitals due to it's low cost and ease of use.
iBreathe is a turbine based flow generator accepting a low flow oxygen input.
Turbine flow could be controlled from 0 to 60 LPM (Adults) and 0 - 8 LPM (Neonates)
FIO2 Control is done by manual increase of low flow input.