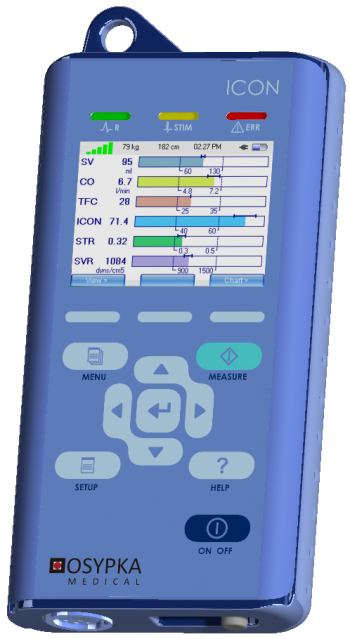 The ICON™ monitor is a Handheld, cost-effective monitor for the measurement of cardiac output in neonates, pediatrics, and adults.
Portability: The ICON monitor is the first and only portable battery-operated cardiac output monitor available in the world. The size of the ICON, at 8'' x 4'' x 1", 3 lb, makes it the ideal monitor during medical emergencies, medical transport, and situations where space is limited.
ICU: The handheld ICON comes equipped with a 2 hour battery life that can be used for continuous monitoring, or for routine spot-checks during clinical rounds on multiple patients in the ICU.
OR: The ICON's portability is ideal for maximizing the space available during preoperative and intra-operative settings. Often in the OR, wires become bundled or entangled; ICON's patient cable follows a grouping system that allows for easy arrangements for a clutter-free operating room.
 Emergency: The size of the ICON allows it to be easily incorporated into any ground or air transport units. Additionally, the 2 hour battery life allows for continuous measurement throughout the transport, as well as for interdepartmental transport/transfers.
The unique Portable ICON™ monitor is a powerful tool for continuous Hemdodynamic Monitoring.
Together with the iControl™ Software, the ICON™ will be even more stronger and could:
Guide Fluid Management Fluid Bolus test and Passive Leg Raising PLR Tests.
High trending abilities.
Unlimited Storage.
Superior Reporting (Comparison Reporting).